The Hollenberg Corporate Event Marketing Management organized barkeeper contests all over Germany to introduce the Japanese plum liqueur Choya to the young target group. This marketing event was accompanied by a massive PR campaign and culminated in a showdown of the bartenders from the best bars in Germany, which presented their best newly created Choya Drinks. The "NOH CHOYA Traditional Mystery Event" of Düsseldorf & its Bartender Contest were the highlights of this multi-week promotion campaign with magnificent response.
The closing event was packed with attractions from the NOH family. The performance of 'Afroditte' as the teller of Buddha's story fascinated the guests just as much as the light-art show with Choya motifs. That the evening ended with a long dancefloor night goes without saying.
What happened...
Within the scope of our kick-off event we chose the 5 best cocktail bars of each region and put CHOYA's tradition and modern spirit in a decorative spotlight. We integrated the bars into the action and the event, so that they could present their especially created CHOYA cocktails to the guests in the settings built up by us, emulating their own cocktail bar. Thanks to the positive feedback, the barkeepers keep offering the CHOYA products till this date.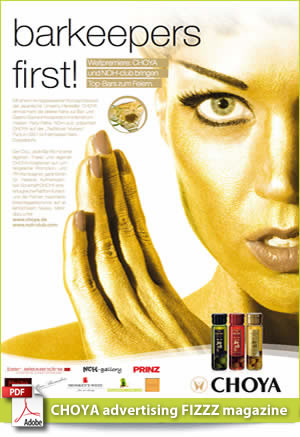 The outstandingly implemented experiential marketing event achieved maximum attention in the media.